SEATTLE'S TOP DJS, FINALLY AVAILABLE BEYOND THE SPOTLIGHT.
NOTE:
This is a temporary landing page piggybacking on the soon-to-revive Plasmodium Radio & Blog website. Plasmodium Events' website is currently under development and not yet operational, so until launch please direct all contact using this form on Kristina Childs' website, or by calling/texting her directly at 206-734-3133.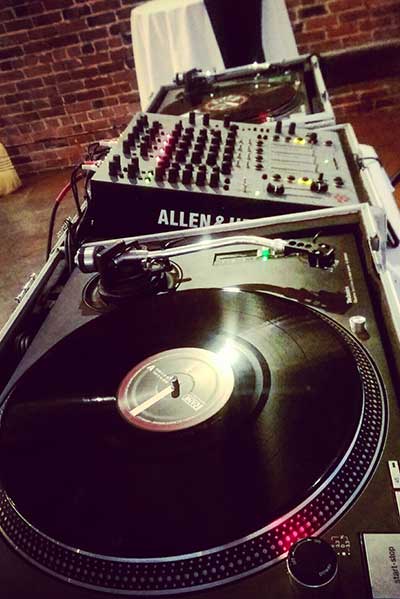 Plasmodium Events is the Mobile DJ arm of Plasmodium Industries, but Plasmodium DJs are not typical mobile DJs. Yes, we DJ weddings and yes, we also provide DJ services for corporate parties, in-store events, birthdays, bar-mitzvas, trade shows, product launches, company holiday parties and every other conceivable Mobile DJ type of event, but again, we are not "Mobile DJs." We are a collective veteran club DJs—accomplished and well-respected artists in our respective communities—orangized by Kristina Childs in order to bring an authentic and exotic option to what is tradionally an under-trained or overly-vanilla selection of available talent within the Mobile DJ industry.
RESPECTED CLUB DJs WHO CLEAN UP NICE
Plasmodium Events is comprised of legitimate, authentic DJs. Everyone on the roster has made a name for themselves regionally, nationally or internationally and as a group boast impressive laurels such as founding of Decibel Festival, running a show on KEXP, organizing Onset Drum & Bass, managing sound for large festivals and teaching music at Seattle Public Schools. Collectively as DJs we have held countless residencies and as prodercers have released original music on multpile record labels. We play a variety of genres (whatever you want us to, really) and each DJ has his or her own flavor, but we always mix club-style, meaning a continuous mix with seamless transitions from one song to the next. Most of us even still use actual vinyl turntables as our equipment-of-choice. In addition to being masters of our craft, most are also seasoned event producers, a skill set not commonly found in a Mobile DJ. This matters a great deal, because it means we can offer something hastily-trained Mobile DJ types (and sadly some of our more experienced competitors) cannot: understanding how to organize an event from start to finish, fluid programing and foresight to spot party-stopping problems before they arise—something that can only come from years of experience organizing and producing large-scale events.
MUSIC IS CRUCIAL! MOST IMPORTANT SUPER LUCKY #1!! FOR SRSLY!
We won't sugar-coat it: your DJ will make or break your event. Period. And every DJ on our roster understands this, takes the resposibility seriously and nurtures it deliberatley. Think back to an epic party, one where you had the time of your life. What made it so great? Good people? Great music? Excitement, laughter & dancing with a beverage in your hand and electricity in the air? Now think back to a time you were tortured with boredom and counted down the seconds to your escape. What changed? I would bet it was some combination of a lackluster host, inappropriate or mis-timed music and lathargic, improperly motivated guests. No joke! MOST IMPORTANT SUPER LUCKY NUMBER ONE!!!
We know, it's a tough one to admit. But you know as well as we do, the power to kill your event is very real and not something you should just hand over to anyone who calls themselves a DJ. Moreso when it's your wedding—one of the most important days of your life—or an event that's supposed to boost morale for your employees, kick off that soon-to-be #1 selling new product or let your clients know they're appreciated so they keep doing business with you... not something they're likely to do if theyre mumbling about how terrible that party was. Now you're thinking "Well crap! They were gonna make me a millionaire!" Right? No? Oh c'mon, it could happen... Maybe. Kinda. *Ahem* Moving on...
"DJ VOICE" IS BAD MMKAY?
We've all experienced at least one event with the dreaded, cliché, Saturday-Night-Live-charactacher of a DJ. You know the one. The guy who sounds like he'd be better suited introducing topheavy blondes with names like "Cherry Surreal" to a small stage with a solitary brass pole? Or the guy who seemed to have just popped in volumes 1-4 of "Now That's What I Call Wedding Music"? Yep. That dude. We've all experienced that dude. But hopefully, you've also experienced a special event with a DJ on the other end of the spectrum. A master of their art who, without saying a word or doing... anything... anything at all, really (except for meeting the occasional high-five or fist-bump) somehow whips the entire party into a single, pumped-up, unified multi-body organisim. Hopefully. Especially if you've had to suffer through DJ Douche McGee, becuase suffereing through one with no evidence of the other is what gives us DJs a bad rep.
If you haven't, don't fret, for they are far less common in the Mobile DJ world. Realistically, the most common breed of Disc Jockey is Discus Jockus Mainstreamacus: a forgttable, thow-away DJ that fades an acceptable radio mix and doesn't regularly cause pained expressions of judgetment and disgust to be exchanged on the dance floor. These DJs are a dime a dozen. But then there's the Unicorn. of private event DJs. The rare, stellar Jock that will have absolutely killed it by the end of the night, but also also:
creates a comfortable atmosphere at beginning of the evening, using gentle music to transition guests into a social mindset
is a relaxed, pleasant and professional host/emcee who usest the mic sparingly
mixes in music that's recognizable and fun while still not being overplayed and irritating
strikes the right balance between classic tunes and new releases
peppers in different kinds of genres to reach the widest possible range of age groups
...does so during the times those age groupes are actually present
programs the event's energy at a natural pace pace by framing each time block gradually
successfully reads the crowd and anticipates what they want to hear
shifts the energy in the right direction... just the right amount... at the right time...

controls the pulse of the party without upstaging the bride & groom, guest of honor, or main subject of celebration
is tuned into the comfort level of your guests, motivating them to get up and dance rather than akwardly guilting them into it
swiftly and expertly diffuse any technical issues that arise, before they become distractions (or disasters)
gracefully accepts (or polietly declines) requests based on preferences of the host
There's a lot more to DJing than picking a song and pressing play. This is why you need a DJ with real experience at the helm your event, and Plasmodium DJs happen to be some of the best, most experienced DJs the Northwest has to offer! Collectively we boast well over two hundred years of experience and a mental library of music just as impressive. After all, our love for music is what lead every human on our roster to start DJing in the first place. Our excitement for mixing songs in creative ways is what made us good DJs, and our knack for infecting others with that same excitement is what makes us exceptoinal DJs. And we are exceptional DJs.
OUR BAR IS HIGH, LET YO' EXPECTATIONS FLY!
We will always have one foot in the nightclub, but the other is now standing squarely in Private Event DJ territory. We understand that while the technical and artistic skills required don't change, the events we play are as unique and varied as the people who plan them. Plasmodium DJs are professional, reliable, dynamic, flexible and juuuuuust offbeat enough to be authentic. We will do whatever you need to make your event perfect; "no" isn't in our vocabulary and no genres is to left-feild. We listen to everything under the sun, and have probably already played any genre you could posibly request... plus a few you've probably never heard of!
WEDDINGS ARE STRESSFUL. LET US TURN DOWN THE CRAZY A LITTLE.
As Wedding DJs, we go above and beyond pressing play on a turntable by being actively involved in the logistical planning and scheduleing of your event. We know weddings are a lot of work and often burdensome, so our goal is to relieve you of as much stress as possible by taking responsibility for the music, sound system, lighting (if applicable) and all other technical and logistical aspects. You can be as involved or hands-off as desired through the planning process. Either way, with Plasmodium you have skilled audio techs who require no hand-holding (we may just hold yours!). We often offer ideas (or warnings) to our clients for things they hand't even thought about. We have been doing this for a very long time and have seen just about everything. We know what works sometimes and what works all the time, and treat each client as an event partner: our years of experince are now your years of experience. With us by your side, everything will go off without a hitch... (unless it's a wedding, then there'll only be two things hitched!! *rimshot*)
We offer competitive rate packages, creative options for limited budgets and can service intimate gatherings of 20 up through a massive festival of thousands. Basic lighting packages are available and our contracts are written to protect you as well as us. Deposit of 50% is required to secure the date with the remaining 50% due week or day of depending on payment method.
We have about 7 DJs on our roster. More bios and music samples will be listed below over the next couple weeks, full website to be launched in the next coule of months!
Direct all questions, inquirys and other communications to Kristina Childs until further notice.
THE PEEPS. YOU KNOW HOW WE DO.